CAN Bus Interface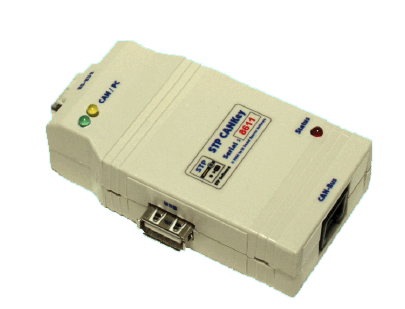 The adapter was developed to connect a ZIMO layout to the PC. It is a affordable and flexible solution to connect the DCC system with STP. You may use a COM port like COM1:-COM4 or the preferred solution you may use USB to hook up the adapter.
Features of STP CAN Key:
Connection via USB or COM port

power supply via PC no external power plug

high speed USB connection, cables included

package pricing if it is ordered with STP

driver software for Windows 98, ME, NT, 2000 und XP, Vista planned Spring 2007

replaces STP dongle)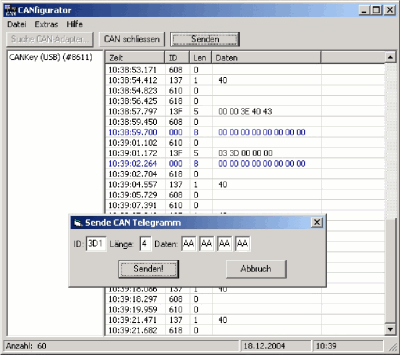 CAN Key ships with a CAN bus test utility CANfigurator. There is also a detailed manual available.
CANfigurator features:
automatic adapter detection

tracing CAN bus traffic

generate CAN Bus packets

configuration of basic STP parameters

handles also Peak-adapters
The manual describes installation and configuration of the adapter. It shows also the configuration of STP.
The manual for CAN Key is available as PDF download
technical data:
PC interface USB 1.1 or RS232

CAN Bus connector in ZIMO layout RJ12

average power consumption 90mA

Size: 85 x 50 x 20mm

USB cable 1m

power cable for RS232 mode 10cm
CAN Key Driver for Windows 10 and 64 but OS'es